Europe
A Day Trip to Paris France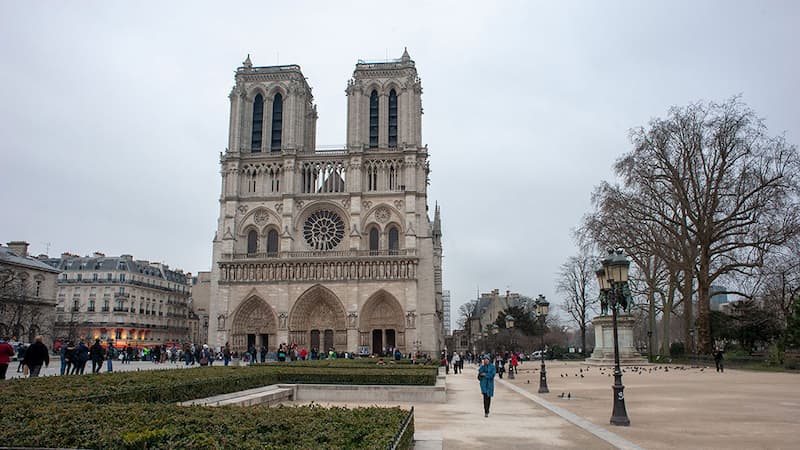 Living in London these past few years I had toyed with the idea of taking a trip to Paris, France. I had traveled through France a few times before but never to take a tour of the city of Paris. So this March, for Linaka's birthday, I decided it was time that we made the effort to skip over the English Channel and take a day trip to French city.
Preparation for a day trip to Paris
Although Paris is relatively close to London, it is not as simple as driving down to the coast. The distance between the 2 cities is almost 300 miles and about a 6 hour drive. Linaka and I decided that we could do a day trip by taking the Eurostar. The trip via the train, at 200 mph, takes roughly 2.5 hours. We also had to consider the currency. Since we were only spending a day in Paris, we decided that €200 Euros would be enough for us to get around, buy food, snacks and anything else we might need. Lastly, we were traveling light. There was no need to bring along heavy luggage, just a backpack, our cameras and a few snacks from Britain.
The night before the trip, I searched online for tourist maps. Amazingly, you can find hundreds of downloadable tourist maps online for Paris. I decided to print a couple. For some reason, I felt that the train station, Le Gare du Nord, would have tourist maps. If they had any maps, they most likely would have been in French.
For any day trip to Paris, or France in general, I recommend knowing the local language. I studied French for 3 years prior to this trip, but since I had not used it in years, I was really bad at communicating. However, I remembered enough French to understand it and read it. Even though there are many people who speak English in France, you can stumble into a small shop where the owner does not speak English. A short audio course on French can go a long way.
What we did in Paris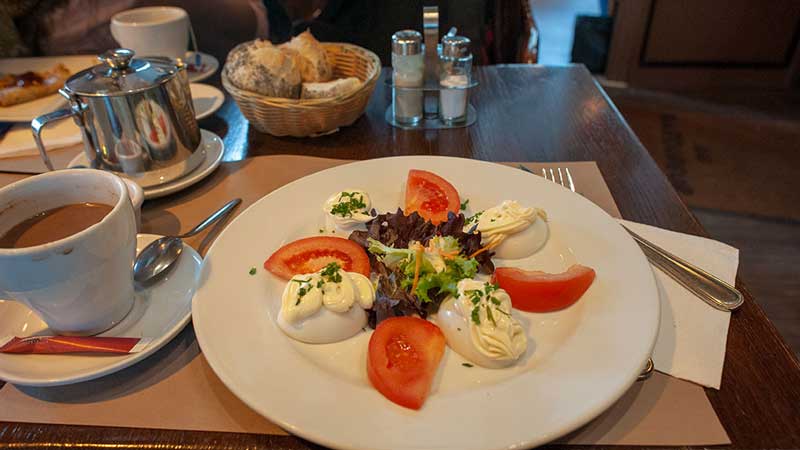 We arrived early in the morning at Le Gare du Nord. Most of our time was spent sleeping on the train. For a bullet train, the Eurostar is not very comfortable or wide compared to the Shinkansen in Japan, but it was the quickest way to France without flying. Before starting our touring, we decided to eat some breakfast.
As we exited the train station the first café we saw was Au Baroudeur Patient. One thing I liked about this café was the fact that they had their menus in various languages. You could pick up a menu prior to entering and read what they had to serve. I ordered an egg and mayonnaise dish and it wasn't bad. It wasn't what I was expecting, but it was pretty nice. The best part of the meal was the French bread. I also enjoyed a cup of hot chocolate while Linaka tried the local tea.
One thing we learned quickly was the closer you are to train stations or tourist attractions the more expensive things get. For example, we walked into a small shop near the train station to buy a bottle of water. The cost for one small bottle was €3 Euros, very expensive. Linaka and I decided to walk down the main road from the train station. Not long into our journey, we stopped by a small local shop and found the same size bottle water on sale for 80 cents. That pretty much informed us on pricing close to tourist areas.
Getting to the Eiffel Tower
Linaka wanted to explore Paris by walking from the train station to the Eiffel Tower. I, on the other hand, wanted to take a bus or the underground Metro, mainly because I wanted to get to the tourist areas as quickly as possible. However, we took our time and began our day trip by walking.
We discovered the lovely Parisian traffic, many side streets with tiny shops and uniquely designed McDonald's restaurants and of course we saw lots of French people. After about an hour of walking, we realized we were still far from the Eiffel Tower. That's when we decided it was time for us to use the public transport.
Taking the public transport was a great idea because it only took us 15 minutes to get to our main destination. We purchased a day pass for €7 Euros. It was a great bargain as it allowed us to use it to get around for the rest of the day. A day pass allows unlimited travel via the underground Metro or buses for that day.
I really enjoyed taking the underground Metro. You never know what you might see or hear. When we took the Metro to the Eiffel Tower, there was a man playing a French tune on an accordion. It felt like one of those old French films where some anonymous person was playing in background while the main characters have their climatic dialogue in the foreground.
The Eiffel Tower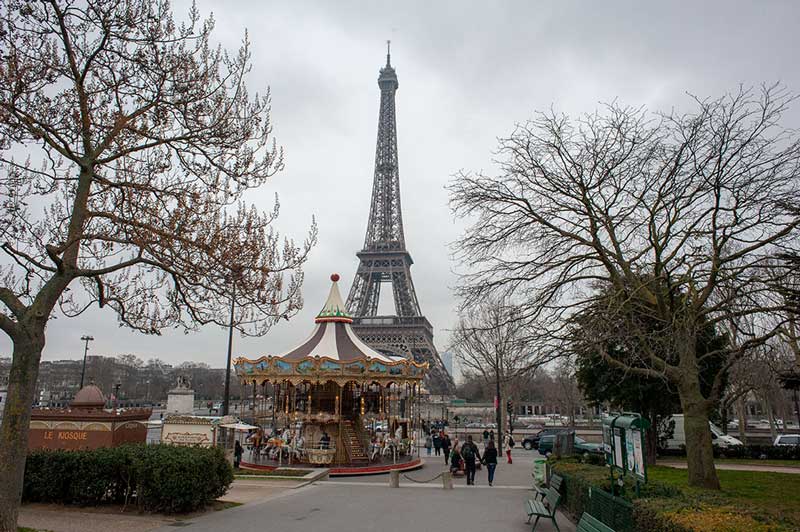 I had seen many pictures of the Eiffel Tower, seen it in movies, read about it in history books, but this was the first time I had ever seen it in person. As we walked out of the Metro underground, it slowly emerged from behind the marble building blocking our view. It was extraordinary. From a distance it seemed like there was a lot of haze or smog in the air, but the Tower looked magnificent. I stood in awe as I admired this centuries old monument constructed by a bygone generation.
I never thought or imaged that I would ever see the Eiffel Tower in person. Standing before it, and seeing the iron lattice reminded me of the many great and creative things man is capable of. For that moment in time I felt like I was part of history. Thousands of tourist had come before me to admire and photograph the momentum and thousands more will come in the years to come. For me, I experienced a moment in time that I will never forget.
Notre Dame de Paris
I have to admit, whenever I visit a new place I have an inclination to visit ancient churches, temples and cathedrals. Notre Dame de Paris was no exception. It is one of the most famous cathedrals in the world and ancient with several centuries from its construction. I think it is this attraction to the French Gothic architecture or simply the fact that I have seen this building in so many movies, documentaries and stories that I was marveled by it. The number of carvings, saints and gargoyles that surrounded the entrance seemed like an army of guardians.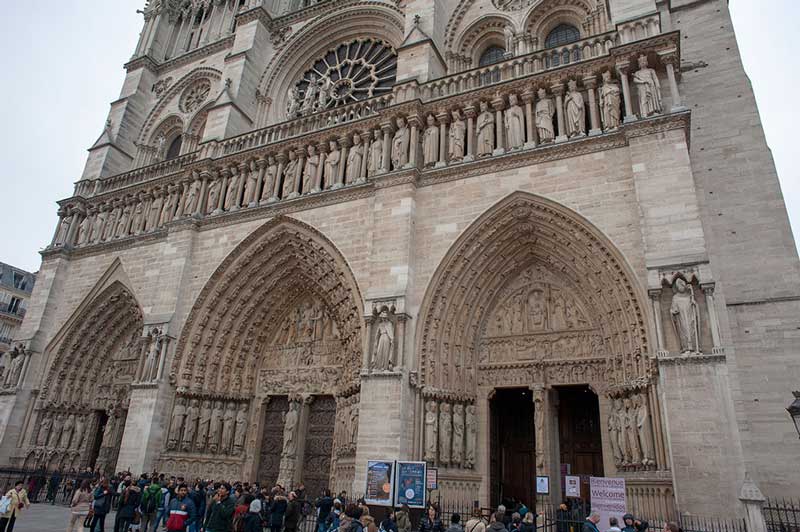 I thought there would be an entrance fee, but like most any church, it was free to get in. What was more amazing was the fact that people were praying inside. While Linaka and I wondered through the cathedral, a Catholic mass took place. Some how I kept thinking it was a tourist attraction and I kept forgetting that it was still a church which conducted a ministry.
Inside the cathedral there were ancient artifacts, statues and paintings. Some of them I recognized while others were completely foreign to me. What also surprised me was seeing a statue of Joan of Arc (Jeanne D'Arc). Here was a historical person I had read so much about. Although it was just a statue and representation of Joan of Arc, it still represented a sign of respect for a person who played an important role in history. Visiting Nortre Dame is one of those places anyone should go. The architecture is beautiful and the number of artifacts, paintings and statures are enough to believe you are walking through a museum. Notre Dame is well worth the visit.
Exploring the small shops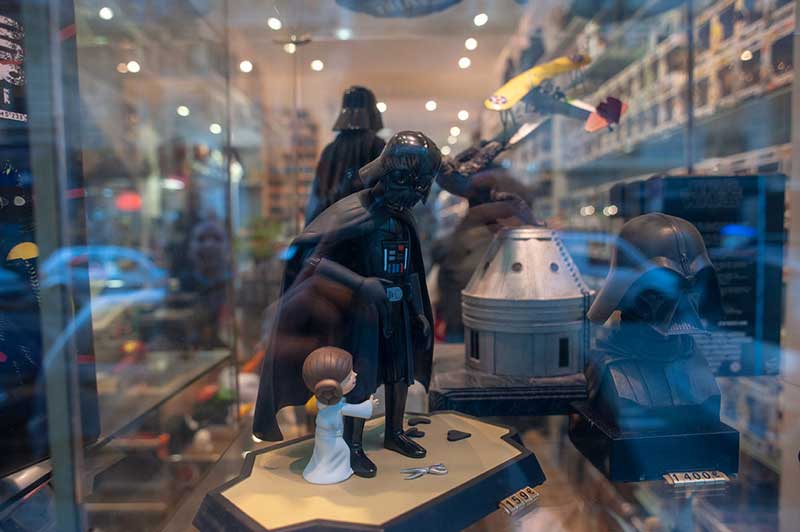 As our day trip to Paris was coming to an end, Linaka and I decided to explore some of the streets and shops around Notre Dame cathedral. Linaka was looking for a specific manga shop she had read about on the Internet. Not far from the cathedral there is a street with several shops specializing in comic books, games and models. Time was running out so we did not have much time to explore much, but we managed to go into a Chinese shop which sold martial arts uniforms and equipment.
The shop owner only spoke French and I was able to manage enough of a conversation to buy a kung fu uniform and a Tai Chi fan. It felt like I got a bargain for €20. I would have loved to have purchased a double edge Chinese sword, but it was beyond our budget and I probably would not have been able to get it back to England.
Going Home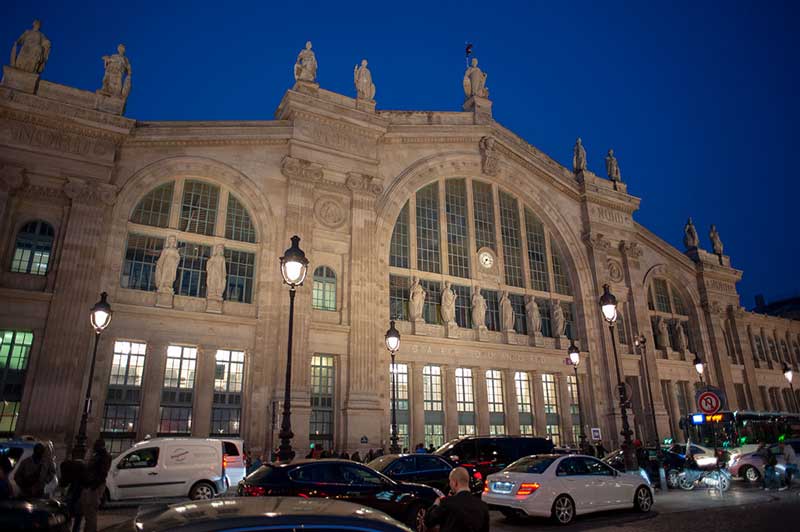 We took the Metro back to the train station, Le Gare du Nord, where we decided to have one last meal before boarding out train. Across from the train station was a fast food place called Quality Burger Restaurant. It was actually a McDonald's type restaurant with very cheap food. Ordering was similar to what we saw in Japan. You walk up to an ordering machine, pick your food and pay for it. Then you take your receipt to the cashier and he gives you your food when it's ready. For a restaurant called Quality Burger, the burgers were very cheap and plain, but at least we weren't hungry afterwards.
We took the train back to London; however, before boarding the train we went through security and passport control. It was similar to airport security and passport control. It was a slow process and the border agents seemed moody but once passed them, the trip back home was pretty smooth. After a long day trip to Paris, getting home late at night we were knocked out and sleeping. For a quick trip across the pond it was nice. Now that we have seen Paris in more detail, we probably won't be going back any time soon. If you have experiences you would like to share about your trip to Paris feel free to comment below.