Japan
Day 14: A Day Exploring Gion and Dressing up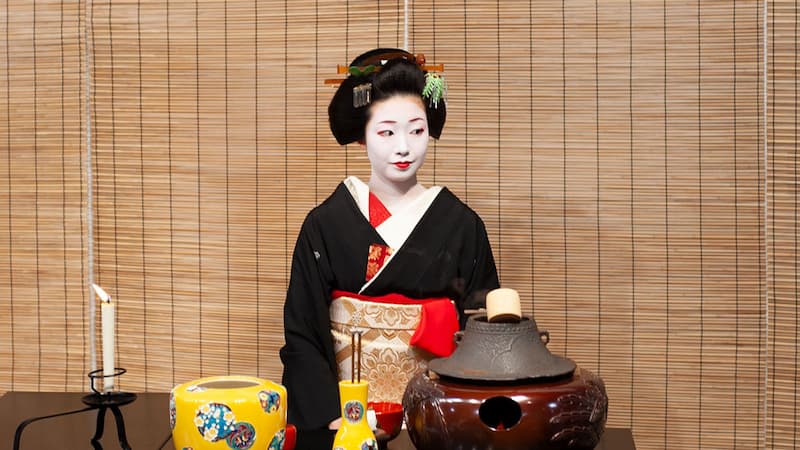 It was a beautiful day and we spent it exploring Kyoto again. Today's main events were to attend a dress up session in the morning with a photo shoot and in the afternoon attend a geisha dance in Gion. The dance is a traditional play with music and some traditional sounds/singing. Today's schedule did not sound like a lot but it was quite a long and busy day.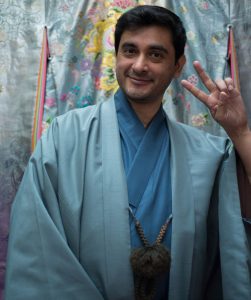 You can read Linaka's account of the day here: "Day 14 Traditional Japanese Arts, Geisha, Maiko and the Miyako Odori".
Our morning dressing up with photo shoot
So we went to a place called Yumeyakata. It is a place that does kimono rentals and photo shoots. I was expecting to be there no more than an hour, but we actually spent more than 2 hours at the place. The time consuming part was dressing up and trying to figure out what the lady was saying in Japanese.
Before going in, we met a newly wed man from Scotland who was there with his wife. He had been waiting in the lobby for a while and mentioned how tight the outfits were. Basically, for the men, dressing up is fairly quick, but for the women it's totally different.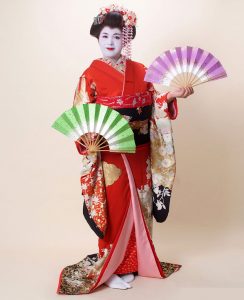 Linaka was there to dress like a maiko which involves various layers of dressing, putting on a traditional wig and lots of make up. I believe the make up part was what took the longest to do. Once she was fully dressed and made up, a lady came to collect me from the lobby and lead me up a flight of stairs to the photo studio.
Linaka had mentioned that she wanted to dress up and walk around Kyoto in either a kimono or yukata, but after dressing up and trying to walk around, I realise that it would have taken us a long time to get around. Leg movement was restricted which meant you could only shuffle from one point to another. It's no wonder that people take small steps when they move around in these outfits. It's very difficult to move.
Anyway, we had a fun time taking the photos. The shoot only took a few minutes, probably 10 at the most. While I only took 1 photo, Linaka took several. I also snapped a few pictures with my phone. Afterwards we shuffled down the stairs to the ground floor where Linaka and I took more personal photos together. And finally, I got a chance to take the outfit off and dress normally again.
An afternoon in Gion, Geisha district of Kyoto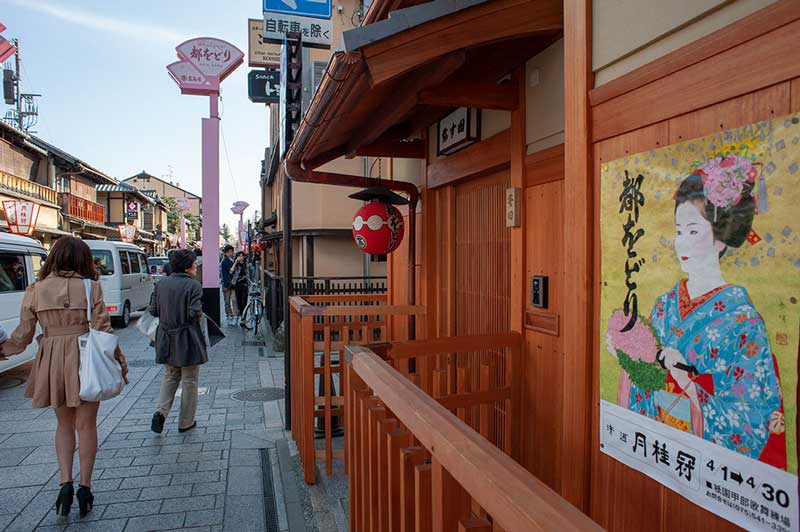 It was a fun morning, but now we were heading back to Gion, the Geisha district of Kyoto. Some how we found ourselves walking down some back streets and found ancient Kyoto. Linaka mentioned that this was the area where we could see geisha walking around at night. During the day; however, it was quite empty, but nice to see these old buildings.
After searching for a place to eat we made it to the main tourist street. It was a beautiful place to see, but highly congested with tourist and cars. Every few minutes you could see a taxi drive by. It was amazing to see traditional ancient Kyoto mixed in with the modern crowds of tourism.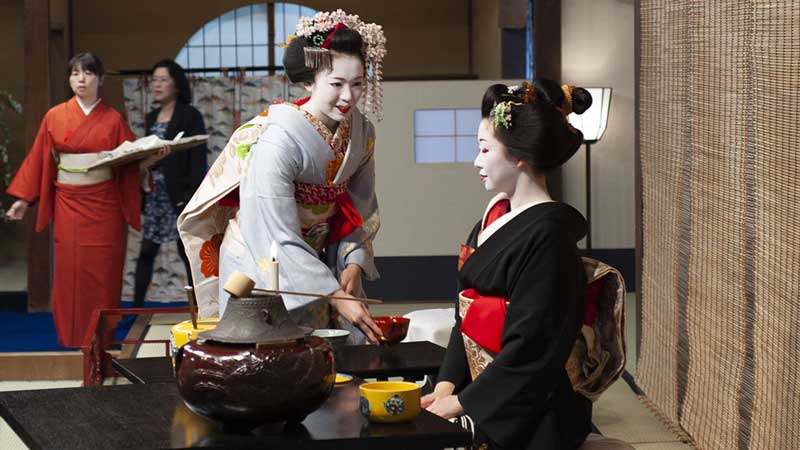 After we found a place for a quick snack we headed to the geisha dance. It started off with a short tour of the tourist sections, souvenir shops and a small museum show casing various things. Before the main event, we sat in a tea ceremony where we saw a maiko and geisha give a short performance. They were dressed beautifully.
Once the tea ceremony was completed, we traveled to out reserved seats. Unfortunately, we were not allowed to take any pictures during the performance. The actual dance was spectacular and it is something you have to experience. The parts of men and women were played by women, the instruments and singing was also done by women. The whole thing started around 3 p.m. and ended by 6 p.m. It was quite a site to see.
Conclusion
We ended the day by exploring around Gion. Gion is considered the Geisha district, so if you want to see lots of women dressed up in traditional kimonos, this is the place to visit. We explored the temples, the streets and the rest of the tourist section. We found a local artist and more temples and shrines in the area. Additionally, there is a large pagoda in Gion, which is pretty easy to spot. Tomorrow, we have plans to go out to Nara and if we have time, we will go do other stuff.