Japan
Day 15: A Day in Nara and 10,000 Gates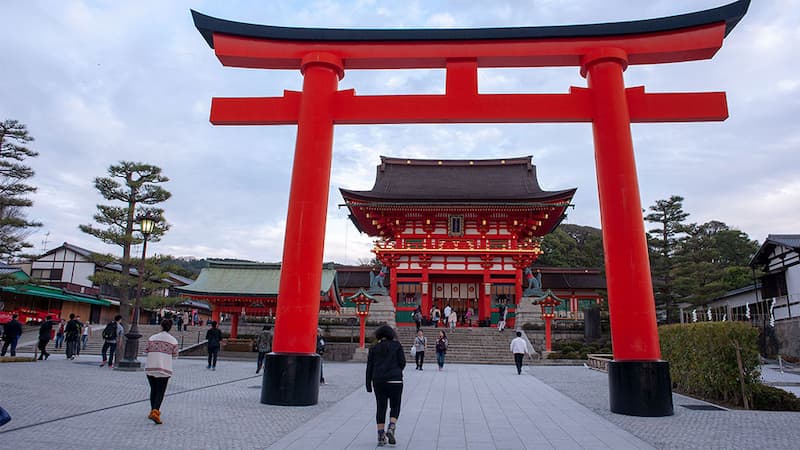 The plan today was to explore around Nara, but after yesterday morning's photo shoot, Linaka wanted to return to Yumeyakata and purchase the digital copies of our pictures. Lucky for us, they did not delete them from their systems and we were able to purchase a photo CD with the four images that we had chosen. Once we had our digital copies, we headed off to Nara to explore the large wooden buildings.
Read Linaka's account of the day here: "Day 15 Nara and Fushimi Inari Jinja in Kyoto".
Nara, deer and many temples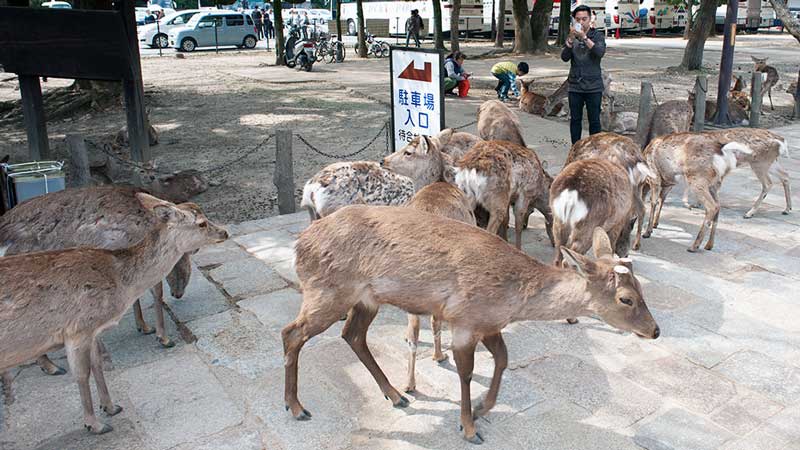 It was getting late in the day when we took a train to Nara. Linaka was not feeling well, so we did our best to see as much as we could in a short time frame. We arrived at Nara train station and I went to the information center to ask for a local map. The lady was kind enough to provide an English map and a suggested route to each of the local temples. Walking distance from the train station to the first temple was estimated at 15 minutes followed by 10 minutes to Todaiji and then another 10 minutes to the last temple. The lady had suggested 3 main stops although there appeared to be other smaller shrines to visit in Nara.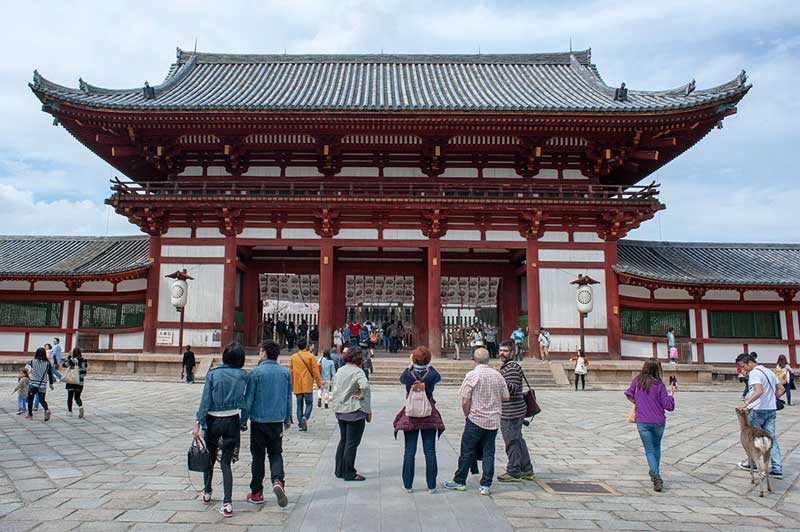 Since Linaka wasn't feeling well and she did not want to spend too much time walking around Nara, we decided to take one of the local buses from Nara train station straight to Todaiji temple. Luckily for us, it was a good choice. The first temple on the map was covered up in mesh and scaffolding. Although it looked like a very large structure, it appeared to be undergoing some restoration. I don't think we would have gotten a good view or some good pictures.
When we got to Todaiji temple, the local Nara bus dropped us off at the park. The deer we saw at Miyajima Island appeared to have followed us because there were hundreds of dear here and the tourist were feeding them like people feed pigeons in the park. These deer were not wild at all. Local venders were selling deer food to tourist.
Many tourist would buy deer food and then they would try to feed the deer. Once the food was out, the deer flocked to the tourist with food in droves. Some deer were trying to bite off the tourist shirts.
To get to Todaiji temple you had to make your way through the hordes of tourist and the herds of deer in the way. If you weren't careful one of the dear would either follow you and try and eat from you.
The actual temple is spectacular. Todaiji is a large building that houses the world's largest bronze statue. There is also a large wooden gate with wooden guardians a few meters away from the temple. Looking at the wooden gate, you could see how aged and worn down the gate is. I can see why the locals in Nara are going through restorations processes for many of the shrines and temples. Given time, the wooden structure will decay and fall apart.
Hundreds of stone lanterns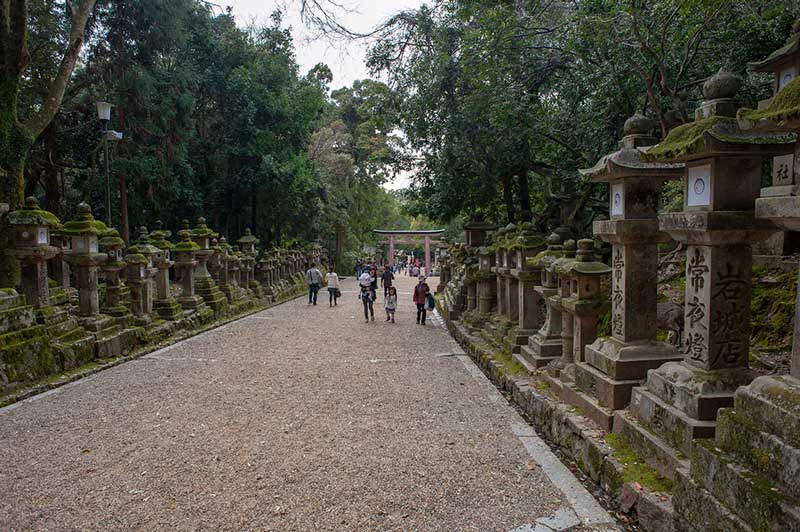 I had to travel to the third shrine (Kasuga Taisha) on my own. Linaka needed to find a bench to rest while I took a look at the next sight. In order to get to the next shrine you had to travel down a dirt path travelling up hill followed by many steps. The path was decorated by hundreds of stone lanterns on either side. It was quite an amazing path to travel.
Along the way there were some small shops and a botanical garden you could detour to. As you climb up the stone steps you'll see a cleansing fountain with a deer statue and then some final steps to take you up to the temple itself. There was a fork in the path and it seems to continue beyond the shrine which I did not explore further.
The temple itself was colourful. There were priests and what appeared to be maidens in the temple. It seemed like it was an active place of worship. Within the temple itself was a corridor with hundreds of hanging lanterns. For anyone that likes lanterns or ancient temples, this is a beautiful place to visit. Linaka was still waiting for me at the park where the deer were so I made my way back to her. Afterwards we decided to head back to Kyoto.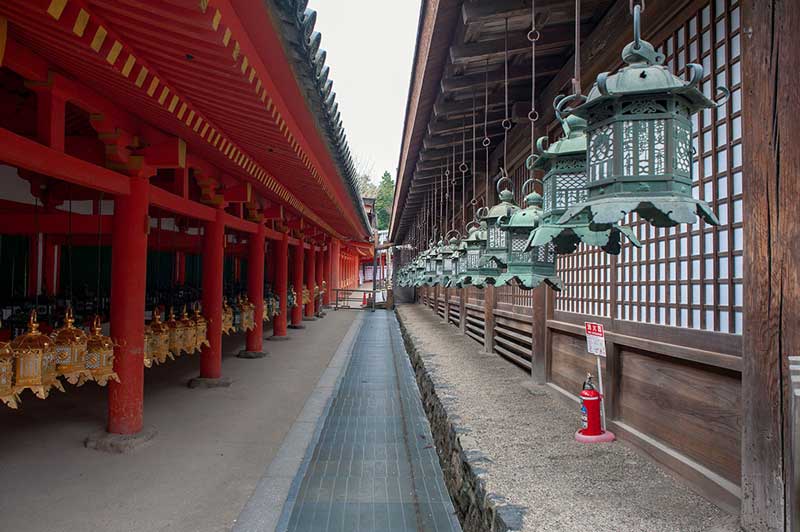 10,000 Gates before Kyoto
Nara was beautiful, but of all the places to visit in and around Kyoto we had to go visit the 10,000 torii gates in Fushimi Inari-taisha. It is one of those classic places that is a must see. I have seen these gates in movies and anime, but I never imaged that I would ever see them in person.
When we arrived at Fushimi Irani train station, Irani-taisha was just across the street. There was a large torii gate to welcome you to the temple area, followed by several other buildings and shrines. Additionally, there were many statues of foxes. There seems to be a popular anime, which was also displayed at the entrance, that is constantly advertised on TV about the foxes and the many gates.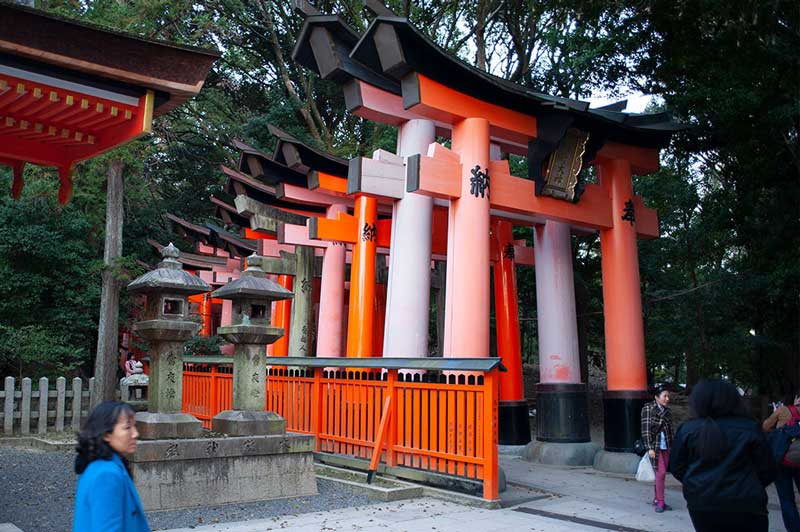 There are 10,000 torii gates which go up the mountain and stretch 4 kilometres. If we had a day, then perhaps we or I would have walked through all the gates. But it was late in the day and it was getting dark, so we only did about 1,000 gates before we headed back to the train station.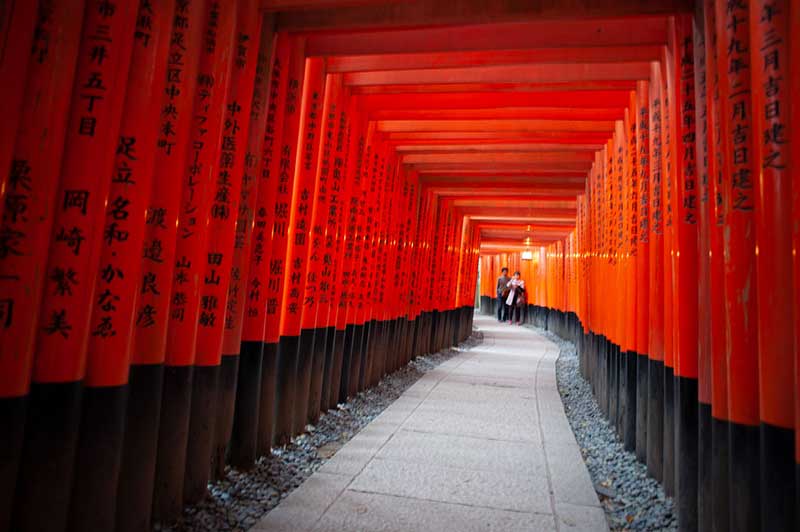 The torii gates are beautiful. They are one of those places that you have to visit, so if you ever go to Japan, then this is one of those destinations that is a must.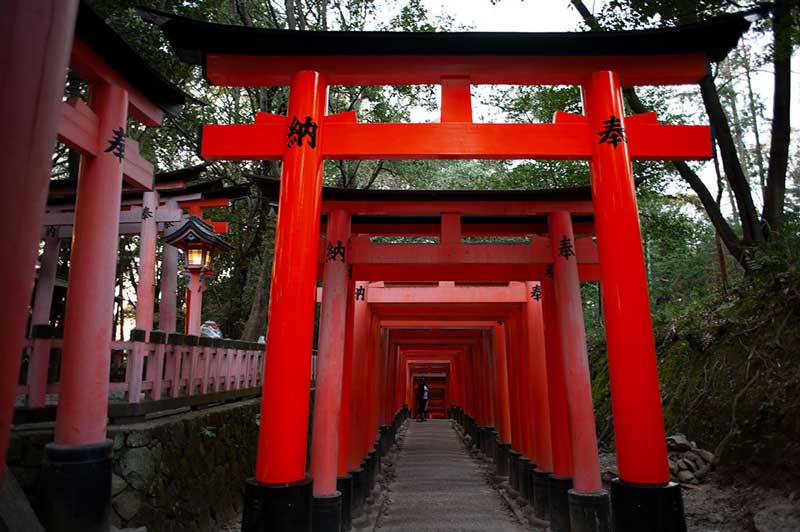 Conclusion
We returned to Kyoto late in the evening and after several hours being out and visiting temples and torii gates we decided to go shopping. We ened our day by going to Yashobi and buying some model sets and a few other things. Afterward we found a place for diner before heading back to our room and calling it a night. Tomorrow, we spend half our day travelling by train from Kyoto to Takayama where our next adventure awaits us.