Japan
Day 5: An Afternoon Traveling to Hakone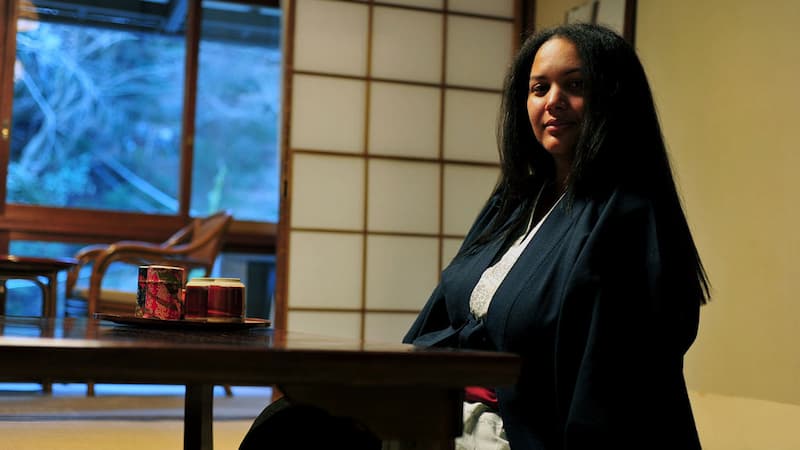 After spending our morning at Hanazono antique market and exploring Shinjuku we boarded our train to Hakone. The Hakone 31 was a very spacious train and after experiencing several crowded subways and trains, it was a nice break to have reserved seats on a train which was not very crowded at all. The estimated time from Shinjuku station to Hakone Yumoto station was a little under 2 hours. It was a beautiful day and a relaxing and pleasant ride.
Also, you can read Linaka's account of our trip to Hakone here.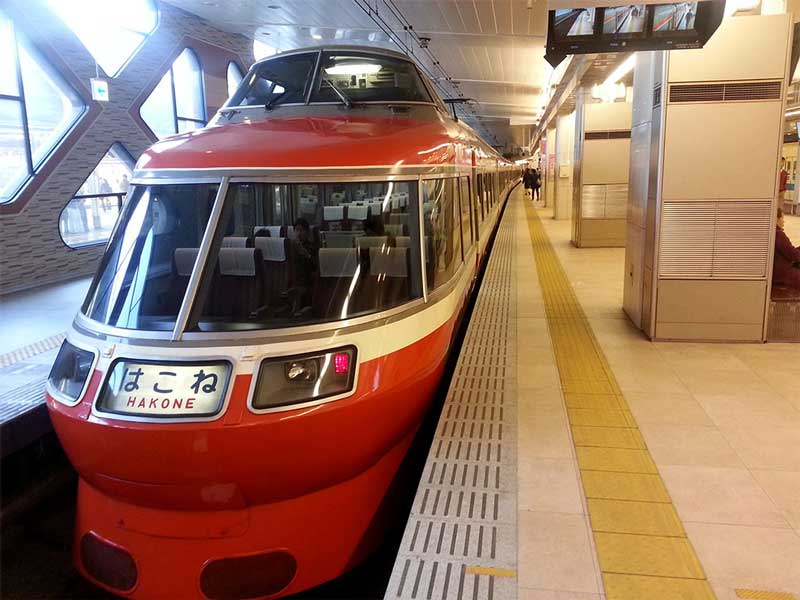 Hakone 31 train ride to Tonosawa station
Although the train ride was a little under 2 hours, it seemed a lot shorter. Perhaps I was feeling sleepy or tired, but the time seemed to pass quickly. Linaka was very happy when she saw the mountains in the distance. Her camera snapped pictures left and right. It was Mount Fuji which peaked her interest the most and it was Mount Fuji which was one of the reasons we came to Hakone. Once we arrived at Hakone Yumoto, I noticed the train heading to Gora was the one we should have jumped on. It left within a minute or so as we were alighting from the Hakone 31 train. I mentioned to Linaka that that was the next train we should get on, but Linaka was being cautious. She didn't want us to get on the wrong train and end up somewhere else today. As the train left, we asked one of the friendly people working the station if that train was heading towards Tonosawa station.
After confirming that it was the correct train, we took the train to Tonosawa station. It was a pretty short ride, about 5 maybe 10 minutes to the next station. As we got off, the conductor of the train jumped out and ran toward us. He was saying something in Japanese, but after a minute I figured he wanted to see our tickets. We showed him our free passes and he smiled and got back on the train. The train station seemed abandoned, with the exception of a shrine on the other side of the tracks and an old man walking towards it. Linaka and I took a few pictures and then proceeded down the hill.
The lovely and peaceful ryokan
We walked down a meandering path. There were a few buildings along the way and a few more shrines. We could see a stream flowing below us and the main street that we needed to get to. Linaka was so happy as we walked down the path. She saw a house with a lovely door and she could not help but stop and take a picture of it. Once we got to the bottom we found the ryokan we were spending the next couple of nights at.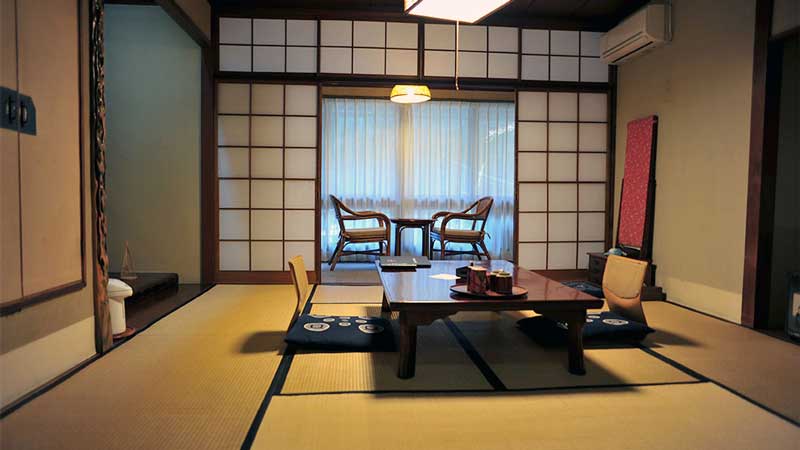 I wasn't sure what to expect, other than it was a traditional place to spend the night at. From the outside, the ryokan (Honkan) looked like it could be a large hotel. But as we approached, a young lady opened the door for us. She instructed us to take our shoes off, place them in some lockers and put on some sandals. Checking in was typical, but the staff was very courteous. They even spoke very well in English. We received our key and made our way to our room.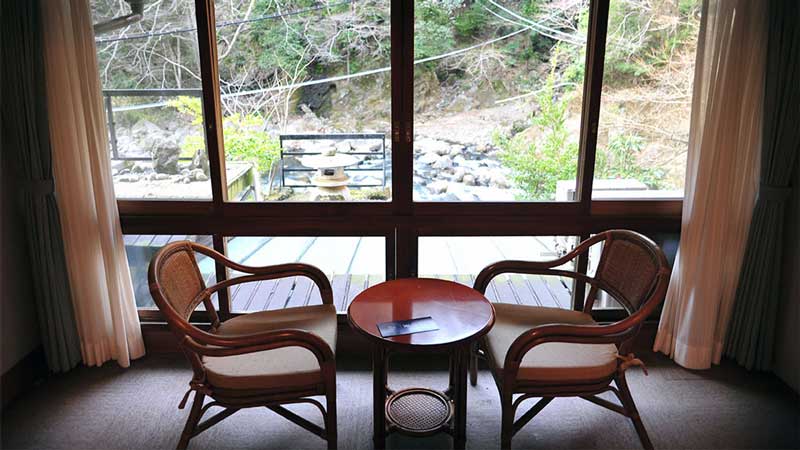 When I opened the door all I saw was a small closet sized room with a refrigerator to one side. I thought, this must be traditional but so small. It looked like you could barely fit 2 people in it. Linaka opened a side door and revealed the real room. I was astonished by how beautiful the place looked. The room looked like a scene straight out of a samurai movie. If it wasn't for the LCD tv and the heater in the room, I would have thought we were transported back in time to ancient Japan.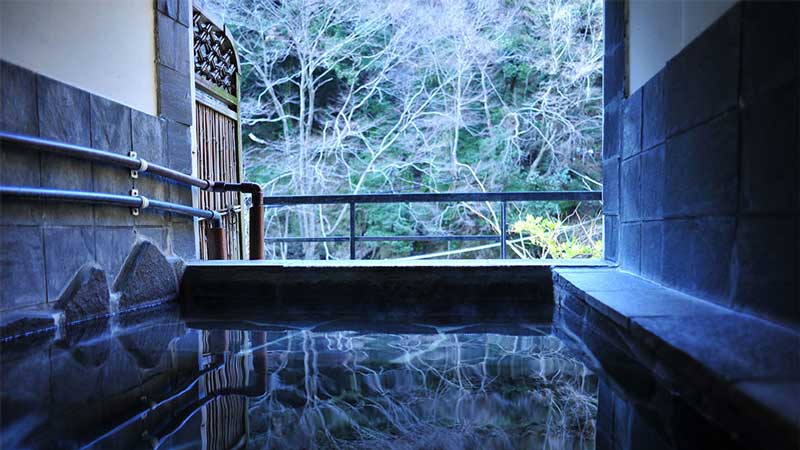 The room overlooked the stream we walked by earlier and to our surprised, there was an on-suite open air hot bath. Linaka said this was the type of place she wanted to live in. I have to admit, this traditional ryokan has made such an impression on me that I feel that I can live in one too. We too several pictures before we relaxed and rested. The Honkan ryokan provided dinner for us. We ate a traditional meal before calling it a day and getting some sleep.
Conclusion
The trip from Shinjuku station to Hakone Yumoto station was a pleasant ride. The scenery was nice to look at and getting to our ryokan from Tonosawa station was easy to find. The ryokan was a pleasant surprise and I highly recommend anyone traveling to Japan to stay at a ryokan at least once. It is one of those unforgettable experiences. Tomorrow we will be exploring and traveling up into the mountains. Our mission is to take pictures of Mount Fuji and maybe more. If you have would like to share your experiences about traditional ryokan feel free to do so in the comments section below.