Japan
Day 10: Miyajima Island, the land of many shrines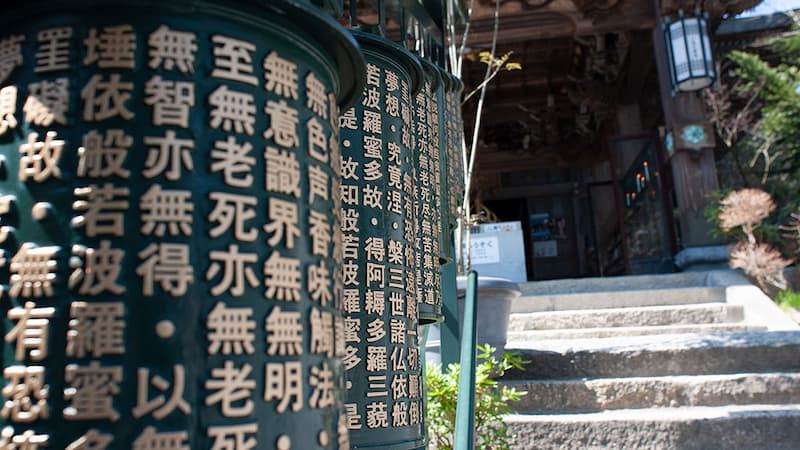 Miyajima Island is an amazing place to visit. When I was a boy, I used to watch a TV show called "Fantasy Island". It was an island where all your dreams could come true. If there ever is a place on Earth that could be called Fantasy Island, then Miyajima is that place. It is also known as Shrine Island and for good reason. There are many shrines and temples all over the place. All you have to do is walk a short distance before you come upon a shrine or temple. But there is so much more to this island than just the famous shrines and temples.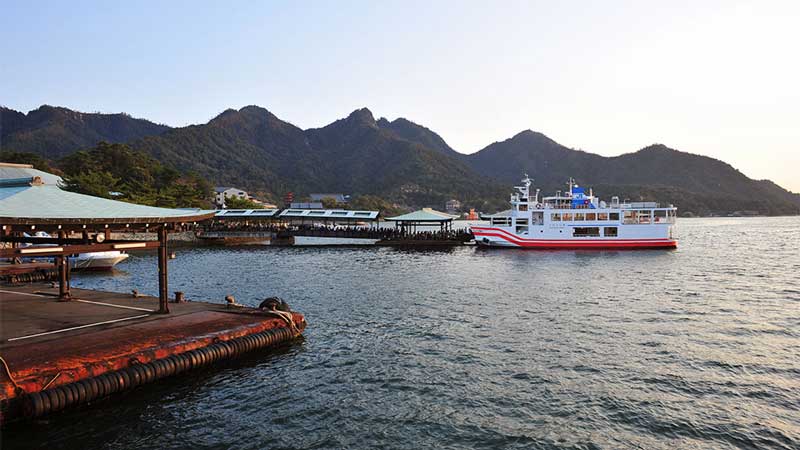 You can read Linaka's article of the day here: Day 10, Exploring Miyajima and Cherry Blossoms
 The attractions of Miyajima Island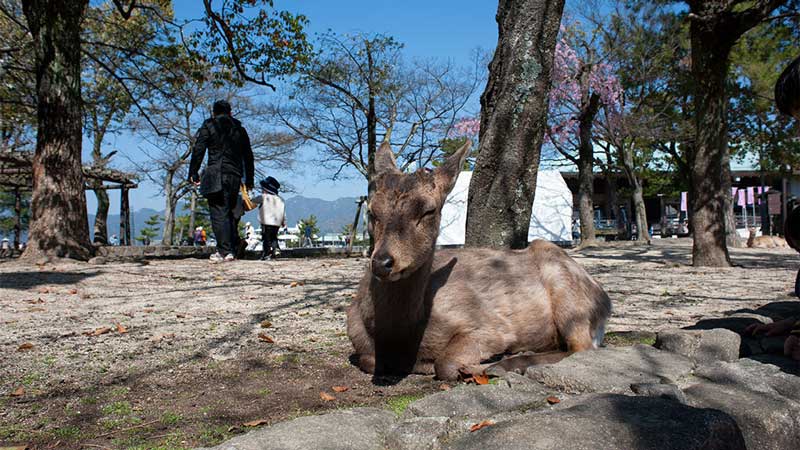 To get to Miyajima Island you have to take a ten minute ferry ride from the mainland. Linaka and I were lucky enough to arrive on a bright sunny day. Upon arrival you might notice the many deer that wander about the island. There are signs everywhere which say, do not feed or touch the deer. The deer are considered sacred and some people believe they are messengers of the gods.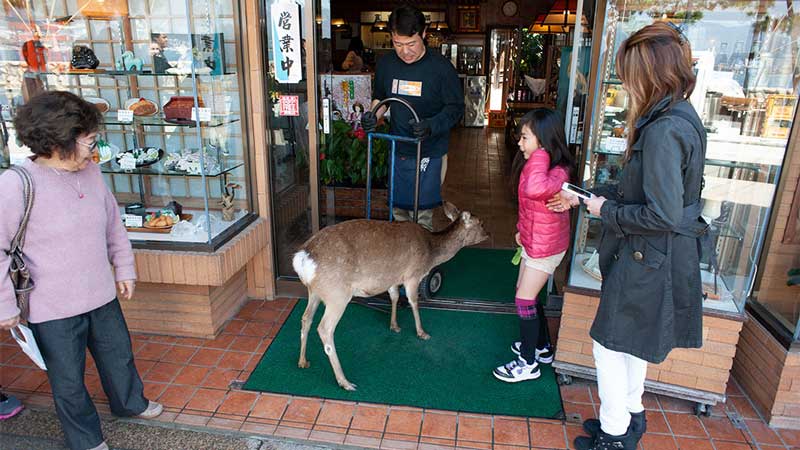 There are signs that say the deer are wild. From my point of view, the deer appear to be more domestic than anything else. They don't run away from any one and most of them are willing to come up to strangers and start nibbling on their clothes, bags and anything they can get their teeth on.
While I was taking pictures of the area, a deer came up to me and started nibbling on my shirt. I had to pull my shirt out of it's mouth. This seems to be a common issue. Just moments after that incident, another group of tourists (a group of teenage boys) got their backpacks nibbled on by a deer. One of them tried to play it cool and just pet the deer. And later that day while Linaka and I were walking back to our accommodation a young girl's bag was also nibbled on, but this girl was not amused by the deer's affections.
Local tours, shopping and shrines
The local information desk or any of the hotels will have maps of the island. It is so small you can probably visit most of the sites in a day. Local maps provide suggestions on 3 hour tours, 4 hour tours and 6 hour tours. You can spend your day by the coast on the beach and enjoy the nice weather. I am not sure if people swim in the water, but if it is warm enough I'm sure they do.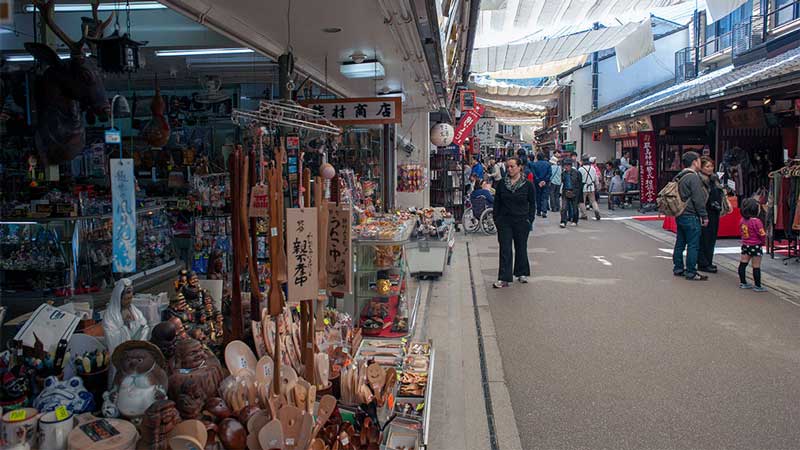 Perhaps one of the main attractions and great sources of income to Miyajima Island is the local market. There is an entire street dedicated to selling many different items from clothes, swords, souvenirs and especially food. The main market street is full of locals, visitors from the mainland and lots of foreigners. I knew there were many foreigners visiting Japan, but in Miyajima's street market you can see a high concentration of foreign visitors.
Most of the food is sea food with many dishes that involve oysters. Additionally, you will find ice cream (with strange names like "deer poop ice cream") and delicious warm buns with eel or beef. One of the local specialties are the maple shaped breads with various fillings, but the main dishes of the island revolve around sea food.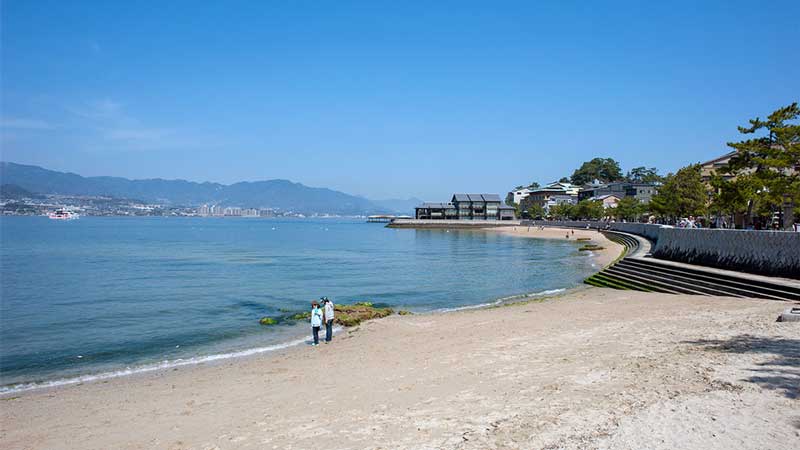 If nature hikes are what you like, then there are several nature paths you can take. There is even a 2 hour hike that will take you up Mt Misen. Along the path you will find many old and new bridges and various temples and shrines. Best of all, you will see many cherry blossoms if you visit during the spring when the cherry blossoms bloom.
If the 2 hour nature hike is not for you, then you can take a cable car to the top of the mountain. You need to get to the park entrance and then walk through one of the nature paths in order to get to the cable cars. It's normally a 10 to 20 minute walk, depending on your pace. However, if walking the distance isn't what you are looking for, there is a free bus service that will take you up to the cable cars. From there you can take a cable car (ropeway) up to Mt Misen. When you get to Shishiiwa station you can either take pictures at the observation area or you can continue up the mountain to highest point and visit the main observation area.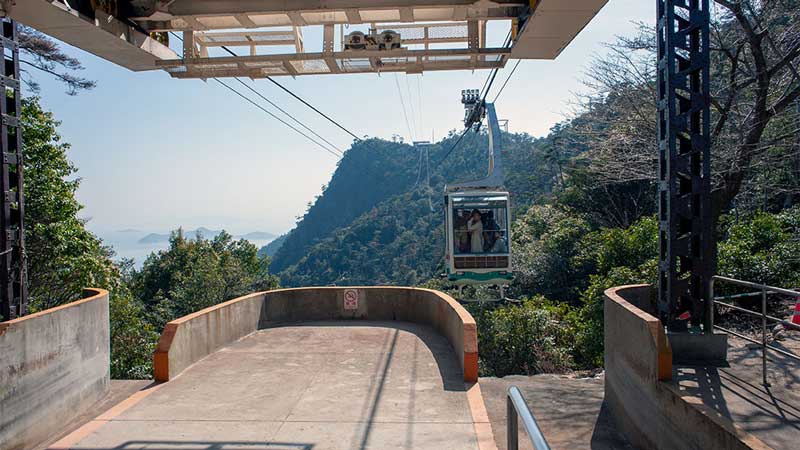 On top of Mt Misen there are many different temples to visit, including the only temple in Japan that worships ogres. Unfortunately for me and Linaka, it was late in the day and we had spent most of it exploring the lower areas of the island. If we had a little more time, we would have trekked up the mountain to the highest point and seen these unique temples.
The many temples of the island
If you like visiting temples, then you came to the right place. Miyajima Island has many temples you can visit. The very first temple that we saw was Itsukushima Shrine. The best time to visit the shrine is in the early morning when the tide is high or in the evening. During the day, the tide is low and most of the land is exposed. There is also a large torii gate which is normally in the water, but when the tide is out, you can actually walk to the gate.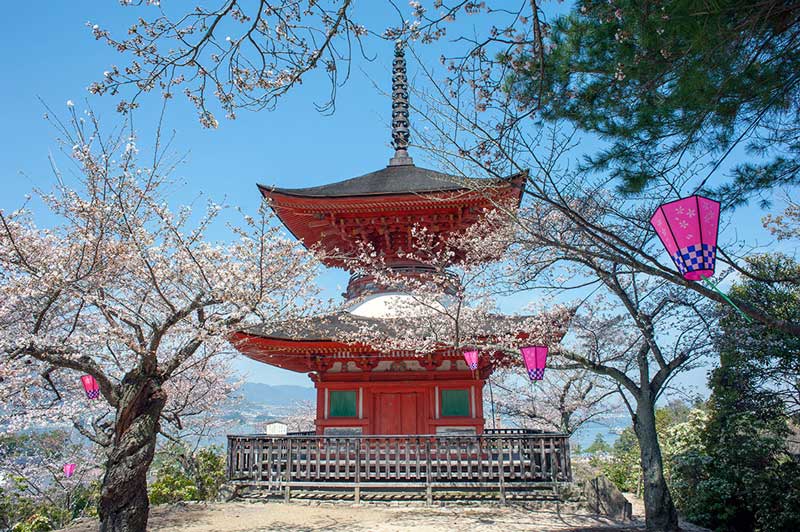 There is also a large 5 story pagoda next to Toyokuni Shrine. It's just a few minutes walk from Itsukushima and you have to climb up some stairs to get to it. There may be another path to get to the shrine, but I only saw stairs.
One of the nicest pagodas to visit is Tahoto pagoda. It is located to the east of the island and can be a little tricky to find. You have to find the Treasure Hall first and close to it is a set of steps that take you up the hill to Tahoto pagoda. It's a small pagoda at 15 meters, but it is unique and beautiful. The pagoda itself is surrounded by cherry blossoms and the architecture of the pagoda is built in Japanese style with Chinese and Indian influences. I am not sure if they hold celebrations there, but it looks like some lanterns are lit up at night around the pagoda.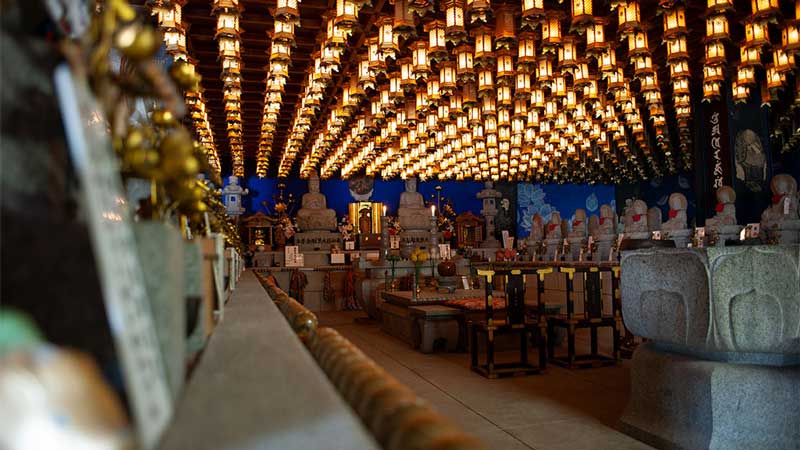 Lastly, Daishoin Temple is beautiful to visit. You can tell by looking at the ancient temples that the buildings are Buddhist in nature. While I was there I saw a monk walk by. The temples blend in with the nature that surrounds them and at one of the buildings you could hear the chanting of monks. I am not sure if there were actual monks there or if there was a recording playing for everyone to hear. This temple has many statues. I am sure each statue represents someone or something but I am not sure. I walked around the temple and almost forgot that I was there as a visitor. It is a beautiful place to visit and an excellent point to relax and feel at peace.
Conclusion
Miyajima Island was an unexpected treasure. Sometimes I felt like the entire island could be an amusement park, but it is a peaceful and beautiful place to visit. There are many shrines, local markets, nature trails and many domestic deer that are eager to eat your clothing. If there is a peaceful place on Earth that you would like to visit, this is perhaps one of the best candidates to consider. Tomorrow we leave for Kyoto where we will spend about a week. If you'd like to share you experience of Miyajima feel free to do so in the comments section below.