Japan
Day 6: Mt Fuji and Hakone National Park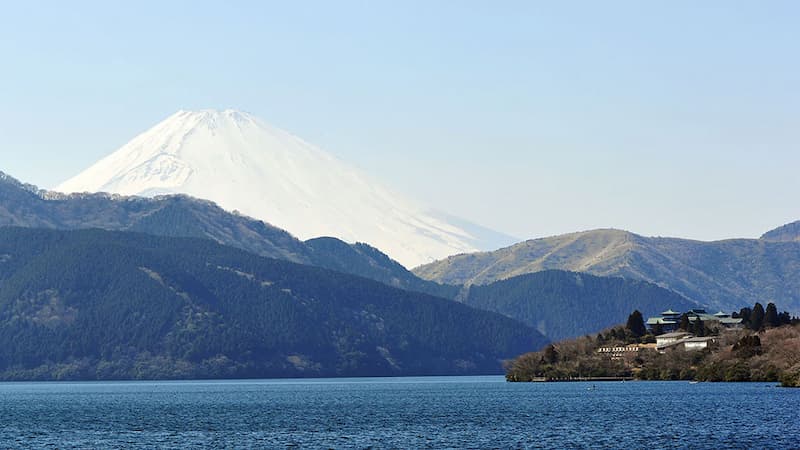 Up bright and early, our mission today was to take pictures of Mt Fuji. We enjoyed a great night in our ryokan and before we left we were treated to a traditional Japanese breakfast. For a moment I felt like a samurai eating breakfast in ancient Japan. As pleasant as the morning was in the ryokan, we set out to travel to Gora station in order to take a train and cable car up the mountain to get a view of Mt Fuji. Our plan was to see Mt Fuji and to take a cruise on Lake Ashi; however, we happened to do more than that.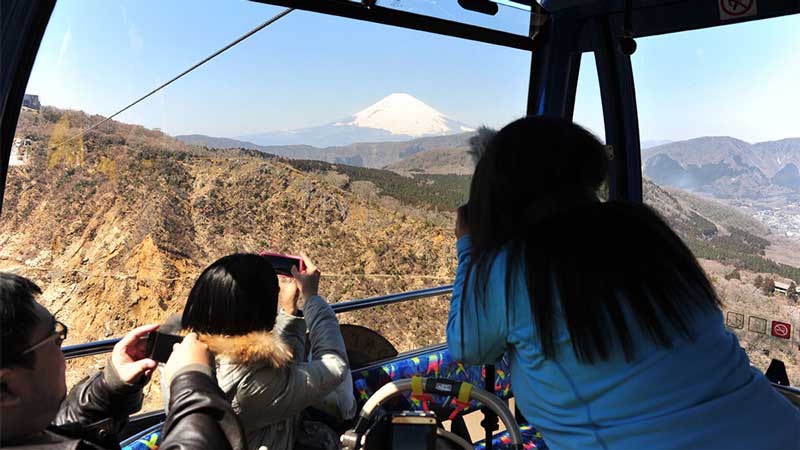 Read Linaka's account of the day here.
Finding Mt Fuji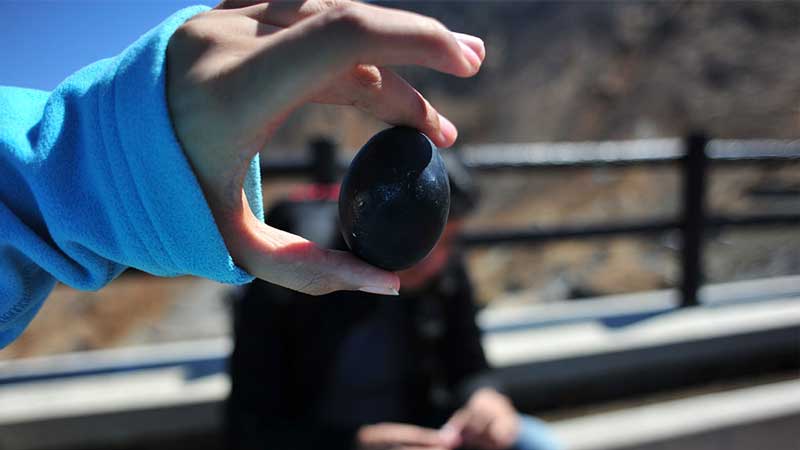 As we travelled from Tonosawa station to Gora station we could not help but notice how packed the train was in the morning. When we arrived the day before, there was hardly anyone on the train, but today it was full. Essentially, we had to stand up all the way up to Gora station. It was an interesting ride going through a bumpy meandering rail track up the side of the mountain. Once we got to Gora station we switched over to another train which took us up to the cable cars. Linaka wasn't sure if she could handle a cable car ride, but after taking off, she soon forgot about where she was and found herself taking pictures of the mountain side and especially the epic Mt Fuji.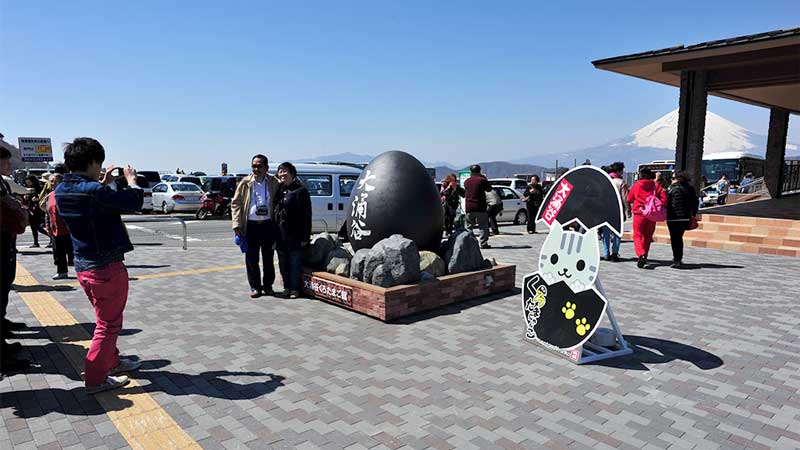 I managed to convince Linaka to explore the area in Owakudani station, she wanted to continue down to Lake Ashi, but I noticed the hot vents on the side of the mountain and the grand view of Mt Fuji so we took our time to walk around, explore and take more pictures. The landscape was amazing and along the way we got to eat some black eggs that a nice French lady gave us. Apparently when you buy some black eggs you have to buy them in sets of 5 and being that she was only 1 person, she wasn't sure what to do with the extra eggs she had.
Legend has it that if you eat a single black egg you will gain 7 years of life. The black eggs are boiled in the hot spring waters of the mountain, rich in sulphur. When you look at the black eggs you can see spots of yellow where the sulphur has built up. I ate 2 eggs and Linaka had a little of one of my eggs. I guess I gained 14 more years to my life span. LOL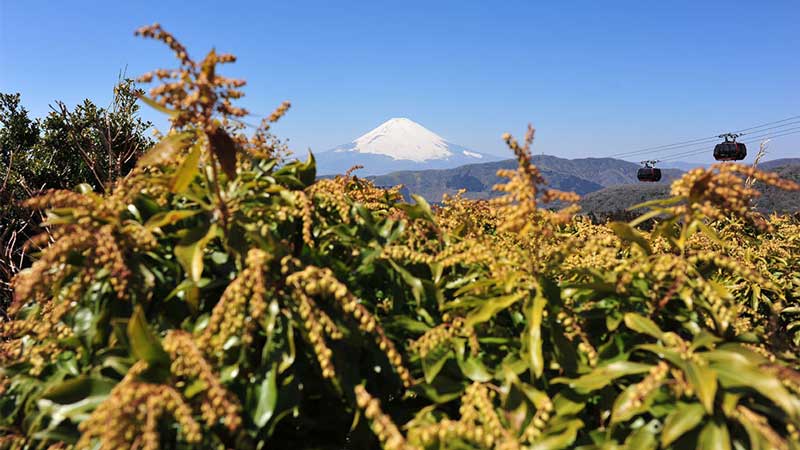 Lake Ashi and Mt Fuji
We explored the local shops as well and take several more pictures before we decided to head down to Lake Ashi. The ride down was gentle. The great thing about the cable cars is that they were not crowded at all. The people that load them up only allow a few people at a time in them. It did not take long to descend the mountain area, I believe it was Mt Kanmurigatake that we were on. We arrived at the base where the lake started in Togendai station. In order to get a good view of Mt Fuji from the lake we needed to take a pleasure cruise across the lake.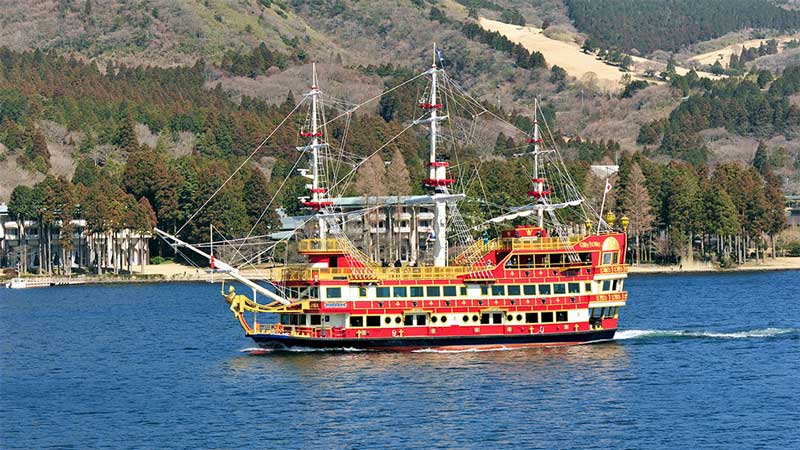 Lucky for us, the free pass tickets we had allowed us to travel on local buses, trains, the cable cars and the cruise on Lake Ashi. I am so happy with these tickets. We had to wait 30 minutes before getting on the pirate ship, but it was worth the wait. The ship was a classic looking pirate ship with cannons on the side, all fake ones, but nice to look at.
Sailing topside was cold, the wind of the Lake was blowing constantly and my hands were freezing, but I wanted to take pictures of other ships passing by, local torii gates and of course Mt Fuji. I was surprised to see some torri gates in the lake and some shrines close by. Since they were close to the port we were arriving at I decided, since we were in the area, we might as well visit the local temples and shrines.
Hakone Shrine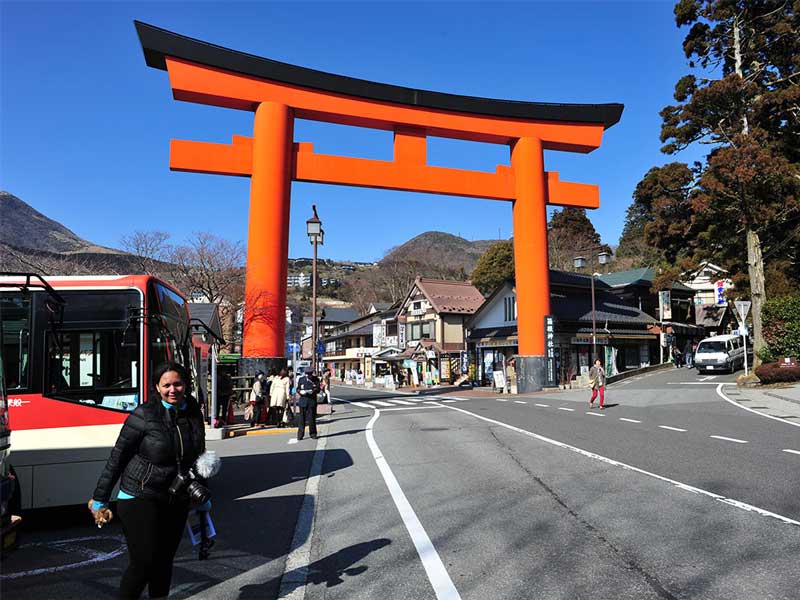 Our cruise arrived at Motohakone where we explored the area a bit. I convinced Linaka to stop by the local 7-11 store and buy some corn dogs. I know it's not Japanese, but we don't get to eat these in the UK and we do like the way they taste. Linaka and I sat by the lake eating our corn dogs when we received a visit by a local cat, neko-chan. He reminded us of our cat back in London, Hunter. It was funny watching the cat approach and then crouch into hunting mode whenever we took a bite of our food. We were kind enough to chuck a few piece at him which he gobbled up quickly. When we were done, she turned his attention to the boys sitting close by and started to hunt for their food. Funnily enough, the boys fed the cat as well.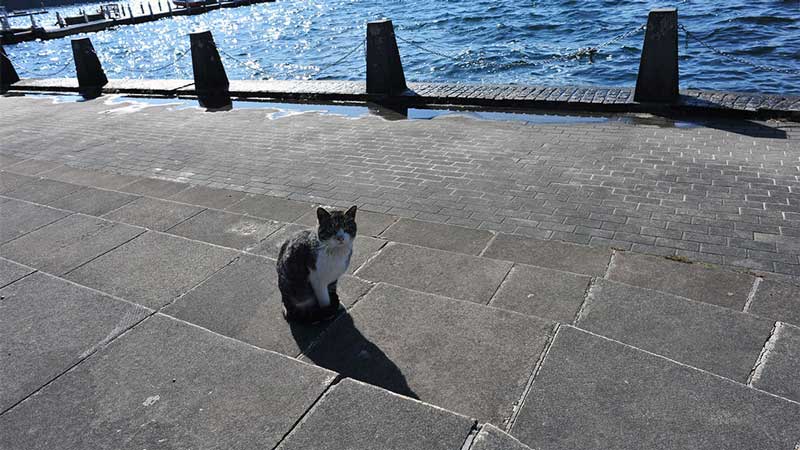 Anyway, after exploring the local town and buying some souvenirs we made our way to Hokane shrine. It was a nice walk along the lake and into the woods. There was an old path that led us to the main stairs which went up to the Hakone shrine.
I knew there were shrines and temples that had hundreds of steps to get to and this was one of them. We walked up the steps, stopped to take pictures and continued walking. The shrine at the top was magnificent and colourful. It seems that every shrine or temple we visit uses bright red colours. Tourist were arriving in droves and it seemed local people were also visiting and praying there. I had to travel down the steps to see the large lake side torii gates. Seeing these in person is amazing. A photograph can show you what it looks like, but being there is just something else.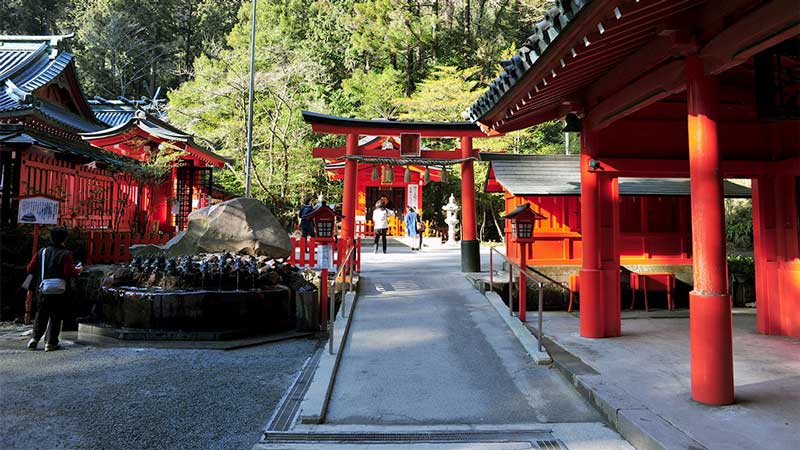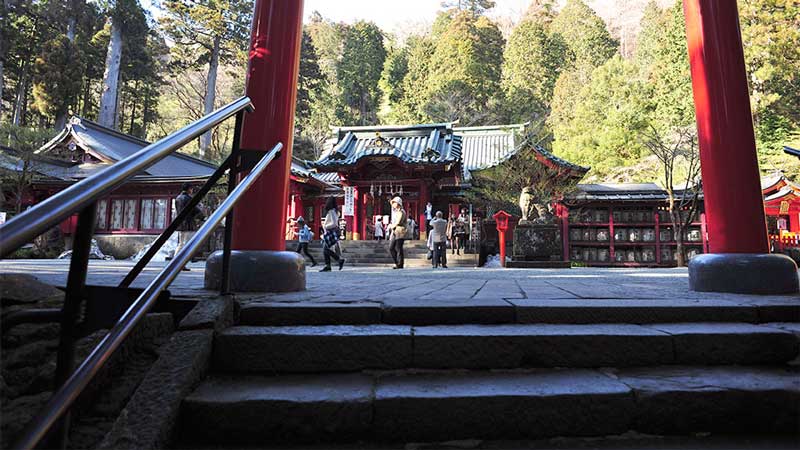 Conclusion
It was a long day with lots of activities and it felt like being at Lake Ashi would have taken a few more days to fully explore and appreciate the area. We enjoyed taking pictures of Mt Fuji, trying out the black eggs, feeding the local cat and simply relaxing. We did take a bus ride down the mountain, which was super packed, but we did not mind. It was a great day out exploring and taking pictures. We returned to our ryokan, had a nice dinner and relaxed for the rest of the night. Tomorrow we head out to Osaka and to whatever adventure awaits us there.