United Kingdom
Dippy the diplodocus is leaving the Natural History Museum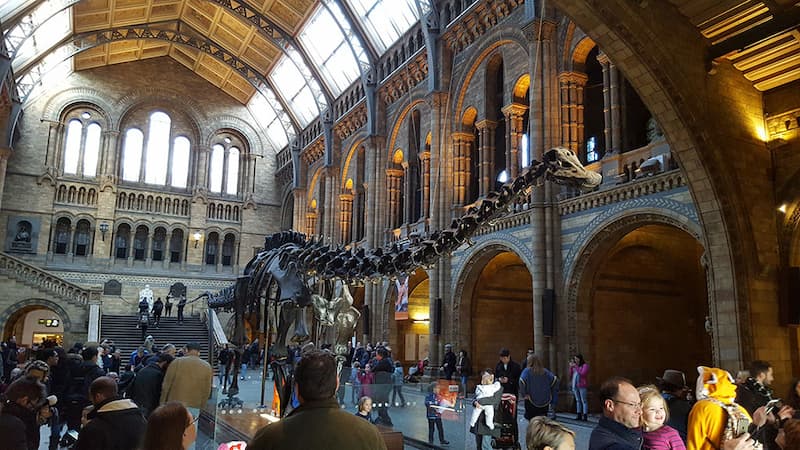 Natural History Museum Dippy Dinosaur
After 112 years of being displayed, Dippy the diplodocus is leaving the Natural History Museum in London.
Today a four man crew begins to dismantle this memorable replica in the Hintze Hall.
Furthermore, the dismantling process will take up to four days. Due to the work, the main hall will be closed to the public. In it's place, the skeleton of a modern day blue whale will be showcased.
Many people around the world come to the Natural History Museum to see this iconic figure. Unfortunately, Dippy the diplodocus' future appears to be heading into storage.
The current plan is to take Dippy on a tour around the United Kingdom starting in early 2018 and then ending in 2020. After which there does not appear to be any plans to display the dinosaur. Dippy will surely be missed.
Dippy the diplodocus background
First of all, Dippy the diplodocus is a replica of the American discovery in 1898. Newspapers billed the discovery as the "most colossal animal ever on Earth".
As a result of the discovery, Andrew Carnegie, a Scottish-born millionaire businessman, set out to acquire the bones as a centrepiece for his new museum in Pittsburgh.
Consequently, when King Edward VII, Prince of Wales, visited the Carnegie Museum in Pittsburgh, USA he requested a replica of the dinosaur. It was presented to The Natural History Museum in May 1905 by Andrew Carnegie.
Dippy is also one of 10 replicas of the original Diplodocus carnegii. Other museums with replicas include Paris, Berlin, Vienna, and Moscow.
Goodbye Dippy
Sadly, Dippy is the main reason why I visit the Natural History Museum in London. There are many wonderful exhibits in the museum. There is an entire hall full of dinosaurs as well. However, it is difficult to imagine the Museum without its centre piece.
Perhaps, if enough people miss Dippy, then maybe he will be brought back for the public to enjoy.
Sources
Diplodocus : this is your life
The Museum's famous Diplodocus is going on tour
A history in pictures: the Museum's Hintze Hall