United Kingdom
A Day at London Comic Con 2015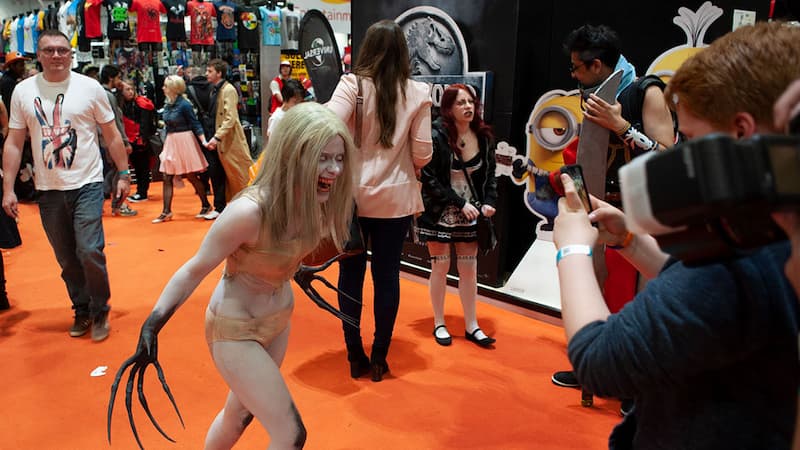 London Comic Con is an event that is held twice a year primarily for Sci-fi and Cosplay fans. I am sure there are many people who would probably disagree with me saying, "what about the role playing card games, comic book signings, artist showcasing their artwork, celebrity Q and A's and of course the plethora of vendors selling and promoting their goods and services". Of course there are plenty of events at London Comic Con; however, the cosplayers seem to dominate the event.
The first time Linaka and I went to London Comic Con was in 2008. Back then, the event did not seem as busy as it did this time around. In 2008 there were big name actors such as Battlestar Galactica's Edward James Olmos and many of the cast from that show. Additionally there were other actors from tv shows and movies such as Chronicle's of Riddick's Christina Cox. The May 2008 event felt like a real treat.
There weren't many cosplayers then as there were this time around; however, back then there were many more professional cosplayers. By professional I mean people hired to dress up for the occasion. Also, it felt like there weren't enough big actors at this event.
How London Comic Con was different in 2015
Perhaps over the years, London Comic Con has increased in popularity. This time around, it felt like there were too many vendors of varying quality. Some of the products on offer seemed like something you would find at a local flee market or antiques show, while others were very commercial. The number of people crowding the event also made it difficult to get around or to take pictures. In a way, it felt like the essence of London Comic Con had some how been lost in the endless crowds and vendors.
My experience could also be influenced by my previous visit to London Comic Con and more recently by visiting Anime Japan in Tokyo. Compared to what I saw in Japan, my expectations in London were probably a bit too high. It was still a fun event.
The Cosplayers
I have to admit that some of the cosplay costumes were very good. There were a few professional cosplayers present but many of the home made cosplay costumes were amazing. It almost felt like the real event was happening outside. When we walked out of London Comic Con, we entered a crowd of fully dressed Sci-fi and anime enthusiasts. You could see thousands of people dressed in their favorite characters walking around, talking and enjoying themselves. We didn't stay long enough, but it seemed that the real party was happening outside and late into the day.
Figurines, Cool Cars and More
How could I forget the figurines, the cool cars and the random miscellaneous stuff going on. Three of the most unforgettable cars were present: Mad Max's car, the Batmobile and "Back to the Future's" Delorean. You could easily stand and take pictures with each of these cars. However, there was a fee to do something with the Delorean. If you could go to London Comic Con for anything, the cars are a must see.
If you like figurines, there were many vendors selling a wide range of them. You could find anime figuring as well as comic book heroes such as Batman, Superman, and Supergirl. You could also find cute Japanese miniature dolls as well as figures of Godzilla and other various monsters. Besides that you had stalls of networked computers showcasing various video games. One odd game was Farm Simulator 15, for anyone interested in raising crops. I guess there is a market for that type of game in Europe.
Lastly, there were workshops on how do make your own character, your own costumes and how to color in Photoshop. For some reason Linaka and I did not see any stalls with actors. There seemed to be a big lack of them. We were there most of the day and only saw one talk by an animator giving a seminar in Photoshop.
Conclusion
Overall, it was a good experience. I felt a little let down with the quality of the event, but it was still fun. The number of cosplayers increased and the costumes were phenomenal. It was a great event for taking pictures and for seeing some of the cool cars such as Mad Max's car, the Batmobile and the Delorian. If you want to see a lot of cool stuff, meet other Sci-fi and anime fans or just dress up, this is a cool event to visit each year. If you like this article, don't forget to share it or if you want to add your own comments, use the form below.